Chris has been officially cleared by the doctor here in Korea!  This past Wednesday we took a second day trip up to Seoul to meet with Chris's cardiologist.  I love a trip to Seoul because that means Mexican food for me!  After a few tests around the hospital, we were able to meet with Dr. Chang (or Jang, you never know which it will be) who told us he never wanted to see us again.  We couldn't agree more, in the nicest way possible.  The infection and inflammation in his body is gone and now, we just have to work on getting Chris back into shape.  He is a very active person, and spending about a month not moving really took a toll on his activity level.
This weekend we took a road trip to Miryang, a city fairly close to Ulsan that Chris has been wanting to go to.  Eoreumgol Valley, inside Miryang,  is famous for its cool air in the summer.  Visit Korea states that " it begins to freeze in March when the weather becomes warm and thaws in the fall when the weather becomes cold.  In the winter, the valley generates warm breezes and the water rarely freezes."  Aside from inviting some friends of ours to join us, I let Chris run with the planning of this trip, it was fun to relax and go with the flow.
When we first arrived we saw signs pointing us towards the cable car up the mountain, so of course, we drove that way.  After getting to the top of the mountain we realized that the ice was in fact at the bottom of the mountain, whoops!  Thankfully we got a few great shots, here are some from my iPhone, sorry I haven't downloaded the photos from our actual camera yet.
After getting back down the mountain we went over to where the ice valley was, which ended up being right down the street.  On the way we crossed a river that people were tubing down!  How fun, right?? After closer inspection we realized that they weren't actually tubing.  It was more like just sitting in tubes, or better yet, standing inside tubes that just happened to be on the river.  Either way, we know what we are doing next summer!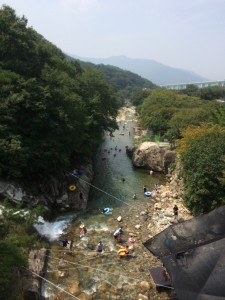 After a lot more hiking (and a lot warmer weather) than we expected, we made it to the magical ice valley.  As we hiked up towards the ice covered mystery we got more and more excited.  The air was cool and refreshing and each step got even colder!  Since Chris was moving a little slower, you know, being cautious with his heart, our friends arrived first.  When we saw their faces we knew something must be wrong…but we had to see for ourselves.  We stepped up, expecting to see hundreds of tiny icicles forming across a wide space of rocks.  Instead we saw this: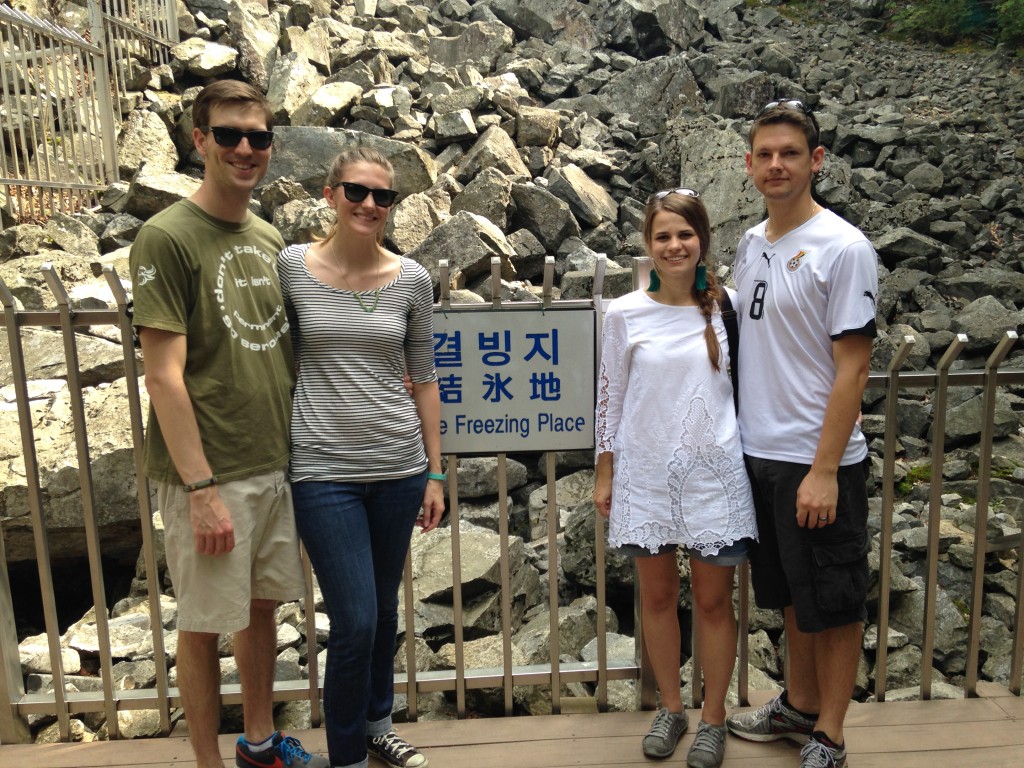 Don't confuse our smiles for excitement, they were smiles of disappointment.  There was no ice. No water that could even be turned into ice.  No anything.  That sign that says "The Freezing Place" is a lie.  It was the no freezing place.  You should also take a moment to check out my outfit.  Being from southeast Texas I was extremely worried about being cold on this trek into a winter wonderland.  Therefore, I decided to tap into my Girl Scout childhood and be prepared for everything.  That is why I decided to wear a thick pair of jeans, a thick 3/4 sleeve shirt, a thick pair of socks and I brought my coat for good measure.  Thankfully we dropped the jackets back in the car because I don't think I would have made it up the mountain with mine.  It was hot.  A normal Korea/Houston summer day, so by the time we got up to the cool air of the ice valley, we were welcoming it with open arms.
After being disappointed with the lack of ice, we weren't very happy hikers.  Add that experience to the fact that we hadn't eaten lunch and it was 2:30 in the afternoon.  We were what I like to call "hangry".  Angry because we were hungry.  Putting that aside, we decided we would go over and see the waterfalls that were close by.  I mean, we had already hiked, so we might as well finish it up while we were out here.  I'm glad that we did because they were nice and we got to see some Koreans rappelling down one of them.  A very pretty way to end the hike.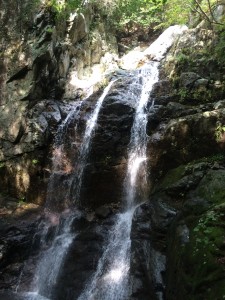 Afterwards, we went and had duck bulgogi (and home-fermented Korean wine), which was surprisingly good!  But that might have been for the fact that I was so hungry!  We will have to stop by again if we are in the neighborhood to test that theory.  Sorry, no pictures of the food.
Things we are looking forward to this week:
Chris's sister, Amber, getting engaged!! We are so excited to have Steven join the family!  They are technically already engaged, so we aren't looking forward to the actual engagement, just the fact that they are engaged.
Heading out for vacation this Friday!  Next week I will be posting from Kuala Lumpur!
Our three month anniversary of living in Korea!
I'll leave you with a few funny pictures from around Ulsan.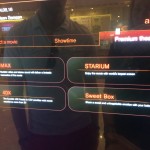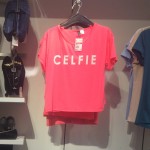 Here is to next week's stories of our adventures in Korea!
Michelle



by