Wow, it's been awhile since I've had a chance to post.  March was a busy month!  We started out the month traveling back to Texas to see some of our best friends tie the knot!  It was a whirlwind trip, that was jam packed with food, friends and family.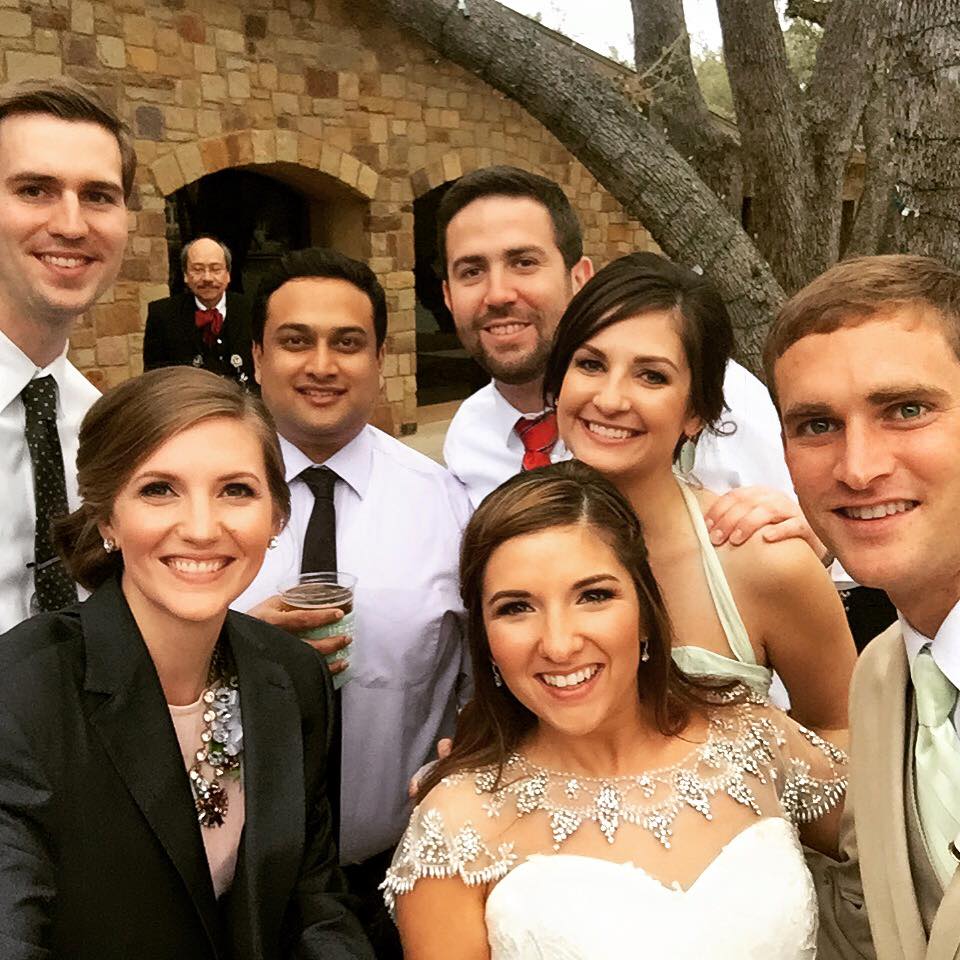 One week later, we left Korea again for our big spring trip!  One country on Chris's "bucket list" was Myanmar, or you might remember it as Burma.  Since we've been in Korea, Chris has been planning to go there, so we went!  We also added on Thailand and Laos, since we were so close.  Having spent the majority of my life over 8,500 miles away from Myanmar, I really didn't even know where it was, let alone anything about it.  Here is a map, that gives you a general idea of where we were in southeast Asia: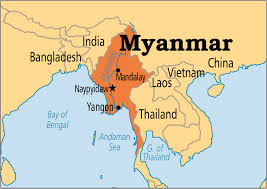 While in Myanmar we traveled around quite a bit — it was hard to pick one area to stay in long, so we wanted to hit as many "hot spots" as possible.  Flights are also extremely limited, as they only go in and out at certain times and on certain days.
From South Korea, we traveled to Yangon, Myanmar via Bangkok, Thailand.  Thanks to Chris's frequent business trips we were able to fly on miles through a Star Alliance with Thai Airways.  Unfortunately, my trip started out on a sour note because my bag was somehow sent to Dubai instead of Myanmar.  What made it worse (for me) was that they had no computer system to try and locate the bag, or give us any idea of when it would arrive.  To add insult to injury, I had planned all along to carry on my bag and, in the airport, decided go ahead and check it.  I even unpacked my backpack and loaded all of the things that would make it "heavy" into my suitcase.  So, when I arrived in Yangon I had the following: a Kindle, a scarf, a jean jacket, a phone charger and some snacks.  Upon arriving at our hotel, the beautiful Hotel Savoy, we went straight to the store to pick all of the necessities I would need until I could be reunited with my bag.  To say that my views of Thai Airways are low, is definitely an understatement.
We spent a day and a few hours in Yangon and I don't think you need any more time than that.  It was a city in transition.  Everywhere you looked there were people working, buildings being built, roads being paved, sidewalks being poured.  Without a ton of "tourist" things to see, we spent the full day we had wandering around the streets of the main part of the city.  Chris wanted to see the crumbling colonial architecture as well as a few other tourist spots.  They also have a large market where I was able to purchase a few "outfits" so that I would have more than one thing to wear.  There is also a very fun zoological garden… fancy for zoo.  It was actually more like a petting zoo for me. I  enjoyed playing with a monkey, some deer and even a baby bear!  I'm sure that you aren't supposed to actually pet the animals, but everyone else was doing it…so when in Burma, do as the Burmese do?  We also went and saw the Shwedagon Pagoda, which is the number one rated activity on TripAdvisor.  If you go, be prepared to be hassled by everyone for money.  Only foreigners have to pay to get in, so that is a little confusing.  Also, they are very strict on dress code.  One person made Chris rent a, for lack of a better word, skirt because his shorts were too short.  You also have to pay to store your shoes because you aren't allowed to wear them, and you also can't carry them in with you.
From Yangon we jumped on a flight to the temple city of Bagan.  Bagan has about 2,000 Theravada Buddhist temples in just over 16 square miles.  Yes, that is correct.  There are so many temples.  The first day we hired a taxi through our hotel to drive us around to see some of the main temples.  This cost us about $12 USD, not bad at all. 🙂  I enjoyed this part of our trip because we were able to cool off in the car between temples.  It is hot there, and it is a completely different kind of hot than I have ever experienced.  It's a kind of hot that just weighs on you and makes you uncomfortable and grouchy.  After our car ride around the town, we decided to go on what I believed was a sunset cruise.  What it turned out to be was a cruise down the river where we got out and went and saw, you guessed it, more temples!  If I'm being honest, by this point I was kind of tired of looking at them.  They are all different yes, but generally they are the same.  Plus I was tired of having to take off my shoes all the time, and even more tired of my feet being filthy!  We did see a beautiful sunset, and our boat captain took us to a really cool temple that had underground meditation tunnels, so it wasn't a total loss.
The next morning we were picked up by Balloons over Bagan for Chris's favorite activity on our trip.  We got to watch the sunrise over the miles of temples from our very own hot air balloon!  Well, I say very own, we shared it with 12 other people.  We highly recommend this tour.  It is a wonderful way to view the temples.  They also hire professional balloon pilots from around the world to fly you around, which is always comforting.  Plus, they give you a cool hat to keep your hair from burning! 🙂  After our morning ballooning we decided to rent some E-bikes and go explore a few of the temples that were closer to where we were staying.  E-bikes are exactly what they sound like, electronic bikes.  They were much needed even though the ground was flat, with it being so hot, I wanted to exert  as little energy as possible.  The bikes were fun, but a little hard to control on the many dirt and sand roads.  Chris even had a little bike wreck and skinned up his knee.  That is another thing to note about Myanmar, they aren't really westernized.  So, bring your own mini first aid kit.  Chris got to put Turmeric on his knee — the holistic Neosporin! 🙂
The BEST part of Bagan was that I FINALLY got my bag back from Thai Airways.  Yes, I went four and a half days without any type of my own thing.  Please take pity on me, I did what I could with what was available.  Thankfully, they had lots of street vendors selling very comfy pants!
From Bagan we caught another flight to Inle Lake!  But more that later…
Things we are looking forward to this week: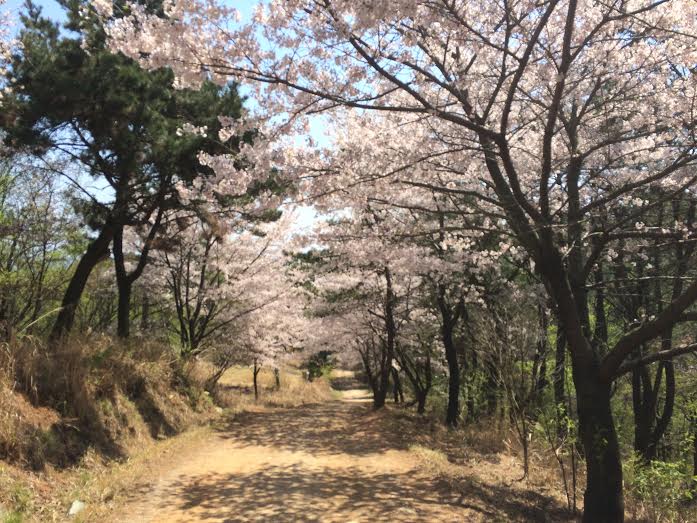 Cherry blossoms in Korea!  They bloomed while we were gone, but we've still got some left over.  Aren't they beautiful?
More posts on our trip to Myanmar, Thailand and Laos.
Feeling better.  Chris and I both got sick from the food (we think) at Bangkok Airport.  Let's hope that we can get better quickly and stay healthy!
Here is to next week's stories of our adventures in Myanmar!
Michelle



by