carmel notre dame de la rencontre The second portion of our trip started out much as the others had, at a very small airport.  I want to take a minute to describe these airports, because they are definitely a different experience.  They should really be described as large houses.  They are very small and have little to no actual gates in them, it's more of just an open space.  My favorite part is that when you check in, they place a sticker on your shirt.  This is how they identify which westerners go to which plane.  From there you walk around the corner to the only security line,  where you walk through a metal detector and proceed into said open space, filled with rows and rows of seats.  Before each flight departs someone makes an announcement, which is hard to hear and then they proceed to walk around the room, motioning to anyone wearing the correctly colored sticker. It's a fairly basic concept, but it actually works quite well.  We were never left behind! 😉  They also never lost our bags, so they are better than Thai Airways!
group dating site We had our hotel set up a taxi ahead of time, so were able to walk straight to the car when we arrived,  I should say that getting a taxi at every airport we went through was very easy.  You must pre-purchase your tickets at the taxi stand inside the airports, but its all very easy.  From the airport to Nyaungshwe is a good hours worth of driving, but the views are spectacular.  Everything is green, and lush, especially after being in Bagan, which is almost the opposite.  There is really just one major road that goes into town, and it only has two lanes, one in each direction.  Depending on the time of day, you can see a variety of vehicles and people heading in to, or out of town.   My favorite is a little hard to explain.  It would be like taking  the front of a tractor and attaching it to the bed of a pick-up truck.  The driver sits on the tractor seat, but instead of it having big back tires, its the truck bed instead.  They are very slow, bouncy and they make a ton of noise.  The noise is only ideal when riding a bike near them, because you can get out of the way in plenty of time.  Sadly, I can't find the picture that we took of it, so you'll just have to trust me that it was strange.
rencontre célibataire gauche We were pretty tired after our day of travelling so decided to spend the rest of our day next to the pool at our hotel, the Princess Garden.  This was the only hotel that I was a little concerned about, it didn't have air conditioning.  That being said, I loved it.  I was never hot, and even was a little cold in the evenings.  I will mention that there were roosters…and with no A/C that means your windows are open…and with open windows you can hear the roosters really, really well.  Especially the rooster that got confused at 4:30 in the morning and decided it was daylight and wanted to let everyone know.  That was the con. The pros were that they had a delicious breakfast every morning, the manager and his wife were always around and very helpful, and they have four dogs that live there as well!  Plus, location.  We were able to walk to everywhere we needed to get in 10 minutes or less.  For dinner, we walked over to a lovely little place we found on TripAdvisor and enjoyed a fantastic meal.  They won me over when they told us they grew their own vegetables in their backyard and watered them only with bottled water.  This place was so good that we went back for a second time on our last night in town.
pop over here Day two started with us renting some bikes from the hotel and riding around the lake, well, a portion of the lake.  We set off in search of hot spring pools that had a high online rating.  Biking in recent years hasn't necessarily been my forte, having fallen off my bike a few times, this was a pretty nerve wracking experience.  Thankfully we made it around to the hot springs, at a much slower pace than what Chris was probably planning.  The hot springs were…less than stellar.  They market beautiful views of the lake, which they did not have.  We were there in dry season, so maybe when there has been a little more rain, the lake would be there?  From the hot springs we hopped on our bikes where we were greeted by a local, offering to take us across the river in his boat.  Lucky for us, that was our next stop.  Inle Lake is very long, there is no way you can make the entire lake, so most people hire a boat to take them across to the opposite side and ride back to town from there.  The best part is that there is a winery just after you get off the boat (or so I thought).  We agreed to a price with the man, and set off towards his boat.  This is where things got a little questionable.  After we looped around through the town, we got to what I would describe as a ditch, where the guy left us to go get his boat.  It took him about 20 minutes because he had to go get gas, which he carried in a laundry detergent container (yay, recycling!).  He pulled the boat up as close as he could get, which was still pretty far away, and we rolled our bikes down to meet him.  My mind was racing when I saw the "boat" that would ferry us across the lake.  For one, there were no seats anywhere, for another, where are you supposed to put your bike???  This thing was like a hollowed out tree trunk!  Thankfully, the guy had done this before.  He picked up our bikes and laid them in the back next to the engine and pointed to the middle of the boat and got us to sit down.  We started out by leaning against the sides of the boat, almost looking at each other.  After taking off, we passed a boat of locals who were all sitting in the middle of the boat in a straight line, so we quickly rearranged and did the same.  I'm sure the guy was happy that he didn't have to balance us out anymore.  The boat ride was pretty uneventful and we were safely delivered to the opposite side without any issue.
when your ex boyfriend is dating someone new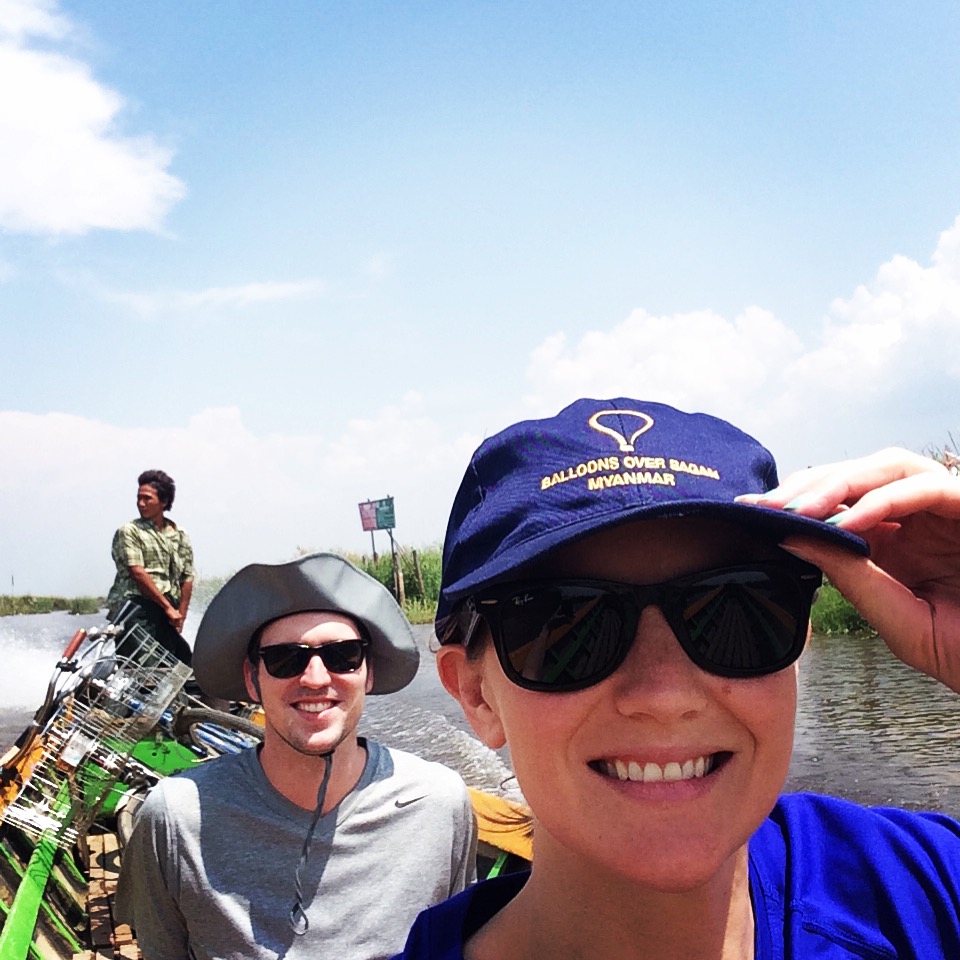 annonce simple site de rencontre After getting our bikes back on land, we set out for the winery!  Unfortunately, it looked like bad weather was coming so we had to book it.  The winery was much further than I had expected and by the time we got there, I was exhausted, which is mainly because the winery was at the top of a giant hill.  Thankfully we beat the rain, just barely and were able to enjoy a meal and some less than stellar wine while watching the rain.  When the rain died down, we headed back to the hotel to make our way to dinner and prepare for our third day in the area.  For our last full day on the lake, we thought it best to spend it — out on the lake!  We hired a boat to take us around to all of the hot spots.  This is a pretty popular thing to do, so really anyone you hire will be able to take you around.  We visited a silver smith, the long-necked ladies, a tobacco shop, a weaving shop, several temples, a boat maker and a huge market place.   We also boated through a floating garden.  I should note that if you are wanting to go and see the jumping cats at the monastery, don't waste your time.  Our guide took us there and then said, "oh, they do not do the jumping anymore".  Pretty big let down for me, but I still got to pet the cats.  On our way home, it started to rain!  Funnily enough, the boat driver had umbrellas for us, so we just popped those out and rode home hunched underneath them.  We stayed fairly dry as well, which was in my opinion, a miracle.
real dating sites for bbw The next morning we set out for our last destination in Myanmar, Mandalay!  By this point in the trip, I was a little tired of Burma.  It's not very westernized and lets face it, I like a good American style restaurant every once in awhile, plus air conditioning!!!  I had high hope that Mandalay would be similar to Yangon, and that we would really enjoy our time there.  I couldn't have been further off.  Mandalay was in the nicest way possible, a nightmare.  The city has very little to do in it, so it was difficult to take up the day and a half that we were there.  Most of the top rated things to do in Mandalay deal with visiting temples.  Since we had just spent four days viewing temples, neither of us were really keen to see more.  That left the Mandalay Palace as well as Mandalay Hill, which is just a bunch of temples that lead up to the top of the mountain.  From our hotel we walked to the palace, which is absolutely huge, or at least the grounds of the palace are huge.  Foreigners are only allowed to enter from the east side of the palace, which was not where we walked up.  After getting turned away from the west gate we started the walk around.  I would guess that each side of the moated wall is one mile, so needless to say, it was a long walk.  By the time we had gotten around to our entrance, we were exhausted and didn't want to go in.  Later, after researching it a bit, it was probably a good decision.  From what others have written, you aren't allowed to do much inside,  and what you are allowed to look at isn't authentic, having been rebuilt in the early 90's.  From there we walked the short half a mile over to Mandalay Hill to watch the sunset.  The hill is fine, you get very nice views from the top, but it is a lot of walking in your bare feet.  It is a huge tourist attraction as well, with lots of stalls set up and people trying to sell you things.  My favorites were the shoe stands.  Why are you trying to sell me something that you won't let me wear???
exemple d'annonce pour homme sur site de rencontre We hired a taxi driver from outside our hotel, Hotel Yadanarbon, and headed out to Pyin oo Lwin for our second day in the area.  Chris had read that the British would travel out to Pyin oo Lwin to escape the heat and city life of Mandalay.  This could not have been a better decision on our part.  There is a large botanical garden there, where we spent most of our day, but also got see some of the city as well.  All in all, my favorite part of Mandalay was this area.
partnersuche internet erstes treffen Before we went to the airport the next morning, we had our driver take us to see the U Bein Bridge.  I had "pinned" a photo of it on my travel board on Pinterest, so it was a "top" sight of mine.  I'm glad we went, but its not a show stopper of a tourist site.  Funnily enough, for a country that is a majority Buddhist, there was a Hindu prayer playing on repeat the entire time we were there.  From there we jumped back in the cab and headed off to the largest International Airport I had seen in awhile.  After getting checked in we went through customs and were sent to pick up our meal for the trip.  I guess the airline worked it out to have everyone eat in the airport and not on the plane.  While we were eating, someone from the airline came and got us to board the plane.  Turns out, in small airports (this airport had 12 gates, they were using 2) when everyone on the flight is there, they leave early!  We gathered our bags, went to the gate, walked down the jet way, took the emergency exit stairs at the end of the jet way down to a bus, and rode the bus out to the plane.  Once the twelve, yes, twelve passengers had loaded, we took off…almost two hours early.  When does that ever happen?  I wasn't complaining because we were off to Thailand, the place I was most looking forward to!
Things we are looking forward to this week:
The Ulsan Baseball Game!  Baseball is a big deal here, and the games are supposed to be a blast.
Casino Night!  The Hyundai Foreigners Compound is hosting a casino this weekend and its theme is "The Hangover"!
One year in Korea!  May 30, 2014 we arrived in Korea, can you believe it's almost been a year?
More posts on our trips to Thailand and Laos!
Here is to next week's stories of our adventures in Chiang Mai!
Michelle



by