After my month long trip to Texas, I of course wanted to take another trip versus going back to Korea.  I've learned that it is much easier to go back to Korea if there is something to look forward to — which is why we decided to take a trip to the Philippines for my birthday this year!  The night of my birthday we took off from Gimhae airport on the way to Cebu City.  There are over 7,000 islands in the Philippines, so choosing where to go is almost impossible.  After speaking with several others that have made the trip, and doing a little research, we decided to go to Cebu Island and Boracay.  Aside from Japan, and parts of China, the Philippines are the closest travel destination to South Korea (I guess you could also count North Korea as a travel destination…but I'm not going to this time).  The only problem is that you have to fly in and out in the middle of the night.
After arriving at Cebu International Airport at 1:30 a.m. we were greeted by the driver that we hired to take us the three hours down to Moalboal, where we would stay for the next three nights. We were at the hotel long enough to get into our room, take a quick nap and then we were off to go swimming with the whale sharks in Oslob!  You must leave very early from Moalboal in order to beat the crowds over to Oslob, where the whale sharks spend most of their time.  We decided to book a private tour for this trip, and it was well worth it.  We were picked up in a very nice SUV, with reclining seats,  (these came in handy for us, since we were really needing a nap!) and driven directly to the boat launching area.  Our guide was great and got us out and into the water very quickly.  She really wanted us to get us in and out before the large tour groups started showing up.  Being in the water with the whale sharks was my favorite things we did on this trip.  They are so quiet and serene.  The local fishermen feed them, so they just hang out at the closest boat and suck in the bits and pieces of fish and shrimp that are thrown in their mouths.  Once they've had their fill, off they go!  Chris and I had a fun time swimming around with them and getting some fun photos and videos!
One of Chris's co-workers has a dive shop in Moalboal, so  we decided to get some good scuba diving in while we were there.  Cebu Dive Centre is perfectly located to see all kinds of great sea life, but best of all are the sardines that have migrated and starting calling the reef there "home".  Diving around the sardines made me think of Finding Nemo.  Do you remember the scene where the fish come together and make different pictures? Like a swordfish and a clown fish?  That is exactly how sardines are in real life, minus the whole talking part and making shapes that look like a specific figure.  They move and swim as one.  It's pretty entertaining to try and get anywhere near them, as they are fast, and do not want to be bothered by divers.  It was hard to get a good photo of this, but see below for a photo Chris trying to get close!  The swirls and dark colors are all sardines.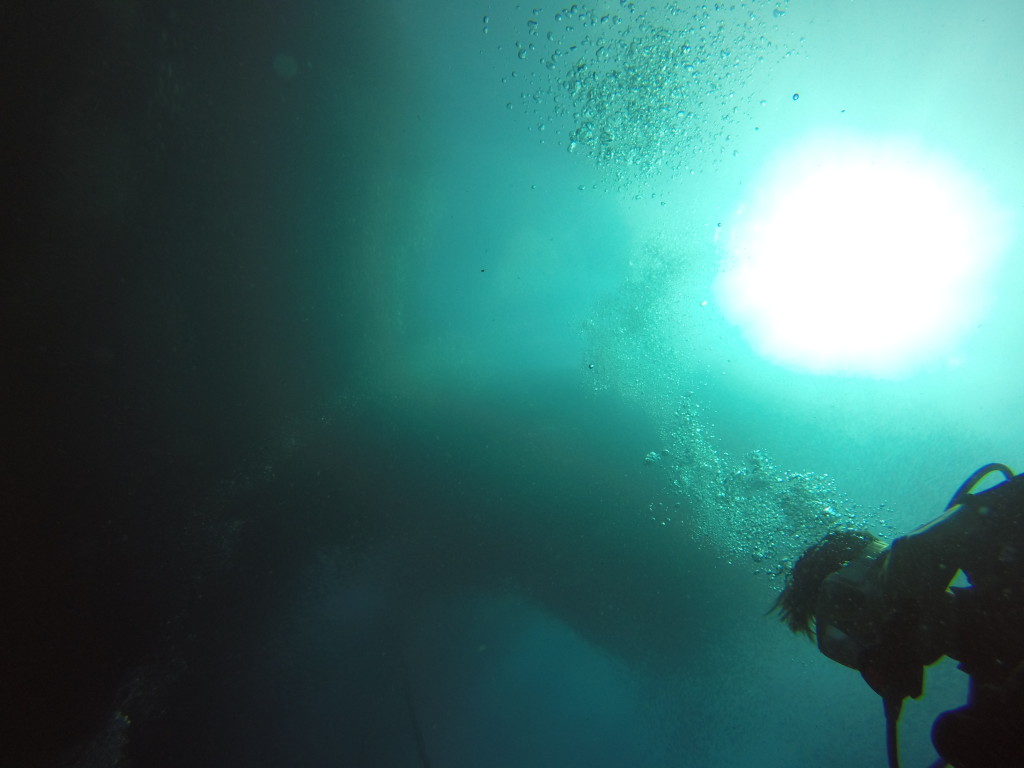 On our last full day in Moalboal, Chris set up a day of canyoning!  We had both been very excited to do this, and I thought it was a great day.  I have to admit that I was a little disappointed that there were no ropes or rappelling during the day, just swimming and jumping.  Mostly, jumping.  We did quite a bit of jumping off of the sides of cliffs and waterfalls into the river.  While I did find this very fun, by the end of it all, I was pretty tired.  We did get some great photos and videos of me screaming at the top of my lungs while leaping off of everything…somehow I can't get those to load?? 🙂
The next morning we were packed and ready to go to the airport at 4:00 a.m. to head to the beautiful beaches of Boracay.  Only one issue, our driver was no where to be found.  We had no way of contacting him and no way to get back to Cebu.  Thanks to Chris and the security guard at the hotel, we were able to catch a tuk-tuk into the center of town, wake up a sleeping taxi driver and drive like mad to make up for lost time to the airport.  Thankfully we made it to the airport just in time, and we were only mildly car sick.
Getting to Boracay is a little tricky, I mean, it is an island, so I guess it isn't too surprising.  We flew from Cebu to Boracay's airport, which is actually not on the island.  From the airport we took a transfer van over to the docks, hopped on the tiniest boat, filled to the brim with people and vendors and took off for the island.  After getting to the island, we were put in another transfer van and taken to the center of town, where we were instructed to walk down the creepiest, dingy alleyway to get to the hotel.  I was a little surprised by all of this, because I had thought we were staying in a really nice area and a fairly decent hotel…thankfully, my suspicions were wrong and the scary alley opened up onto the most amazing beach and the front of our gorgeous hotel!  All of the hotels along the strip face the water, and no vehicles are allowed, foot traffic only.  The last few days of the trip were great, we took it easy and relaxed at different beaches around the island.  I also got the chance to go paddle boarding, something I've been wanting to do for awhile now!
The Philippines was one of my favorite trips.  The beaches are wonderful, the outdoor activities couldn't have been more fun, and the people were great.  Add that to a wide variety of foods that I love, and I would go back in a heart beat.  The only issue for me were flight times.  I am getting fairly tired of late night/early morning flights.  They take a lot out of you and makes the trips a little less enjoyable.  If I could change that, then, I would go back.
Things we are looking forward to this week:
Blogging from our long weekend in Fukuoka and Hiroshima!
This weekend I am taking two soccer teams to play a tournament in Gumi, about two and a half hours from here.  I am looking forward to seeing a new part of Korea and hanging out with the kids.
November!  Fall is here in Korea and we are loving the weather and the changing colors in the scenery.
Here is to next week's stories of our adventures in Korea  (and Japan)!
Michelle



by