At the end of August, Chris and I took a weekend trip over to Japan to visit Fukuoka and Hiroshima.  A trip to Japan is always one of my favorite things to do, so I was pretty excited to get out of Korea for the weekend.  Unfortunately, I had just injured my knee playing soccer, so it made the trip…a little slower.  Hobbling around was fun, but I do wish my knee hadn't hurt, it made the trip much more tiresome and a lot less enjoyable.  Funny enough, I went to the doctor afterwards and learned (after an MRI) that I had  cracked my fibula (by my knee)…whoops.  As a side note, that kept me from playing soccer, or really being active at all for three months…not fun, when most everything you do in Korea is considered active.
We started the trip in Fukuoka; it's only a 45 minute flight from Busan! After the quick flight over and local subway, we walked (yes, I wanted to catch a cab, and Chris did not) over to our hotel on the other side of the canal. I have to admit, there isn't a ton of "touristy" things to do in Fukuoka. The original reason we went there was for Chris to pick up a shot glass from their Hard Rock.  We are adding a considerable amount to his already large collection, not sure how I feel about that. That being said, we did get some great food and looked around in their outdoor/indoor mall called Hakata City.  They also have some beautiful parks and several temples and shrines. Obviously, we didn't leave until we had made a pit stop at the Hard Rock Cafe and Rock Shop.
Hiroshima was next up on the list. We took the Shinkansen (speed train) over from Fukuoka. It is one of the only ways to travel between the two cities, which is why it was so lucky that I enjoyed it! It is a nice way to see some of the countryside, and it's also fun to go fast! They have a "speed train" in Korea but it doesn't go nearly as fast as the ones in Japan do.
Chris had been to Hiroshima previously but was nice enough to make another trip. I was very interested in visiting the the Hiroshima Peace Memorial Museum as well as the surrounding park. I was a little nervous about what my reaction would be to seeing the effects of the atomic bomb. Afterwards, I can say that I was very lucky to experience it. I was thankful to be able to learn about another perspective of the war. The museum was extremely crowded, so I rented an audio guide to help me through the tight spaces.  I'm thankful that I did, because I doubt I would have been able to get close enough to the actual exhibits to read about them.
That evening we took a train and ferry boat over to see Miyajima and the giant floating (not really) Torii gate.  When planning trips, I rely heavily on Pinterest, TripAdvisor, and Lonely Planet to pick out fun things to do in the area. For this trip, Pinterest was in my inspiration for most everything. I just type in the name of the city we are going to and save any photos that look pretty.  Hence, the reason we went to Miyajima. The gate is breathe-taking.  I would suggest going for either sunset or sunrise, we chose sunset.  They also have very friendly deer in the area, so of course we had to take some photos with them. 🙂
On our last day in Hiroshima we stopped by the Shukkeien Garden, which was one of my favorite places this trip. In my opinion, the Japanese do the best job of making a garden or park feel separate from a major city. It is absolutely beautiful there, a breath of fresh air after walking through all of the high-rise buildings and dealing with the large numbers of people and cars. They even offer free guided tours, in English!  There wasn't anyone else around at the time, so it was a private tour as well. Our guide was full of great knowledge and even kept the pace slow because of my knee.
Things we are looking forward to this week:
Christmas in Korea!  Christmas is such a special time for us and we are very sad to not be able to spend it with our families, but we are excited nonetheless to be able to celebrate together.
Catching up on all of the old blog posts. Yes, I realize I just posted from a trip in August. I have several more to post from September and on!
2016! We have now been in Korea for a year and a half, so if Chris's time frame is correct, we will be moving next year!  More details on that when they become available!
Here is to next week's stories of our adventures in Korea!
Michelle
P.S. Chris celebrated his 30th birthday last weekend!  We were both not feeling 100% but we couldn't let him not celebrate with cookie cake (and maybe a little bourbon)!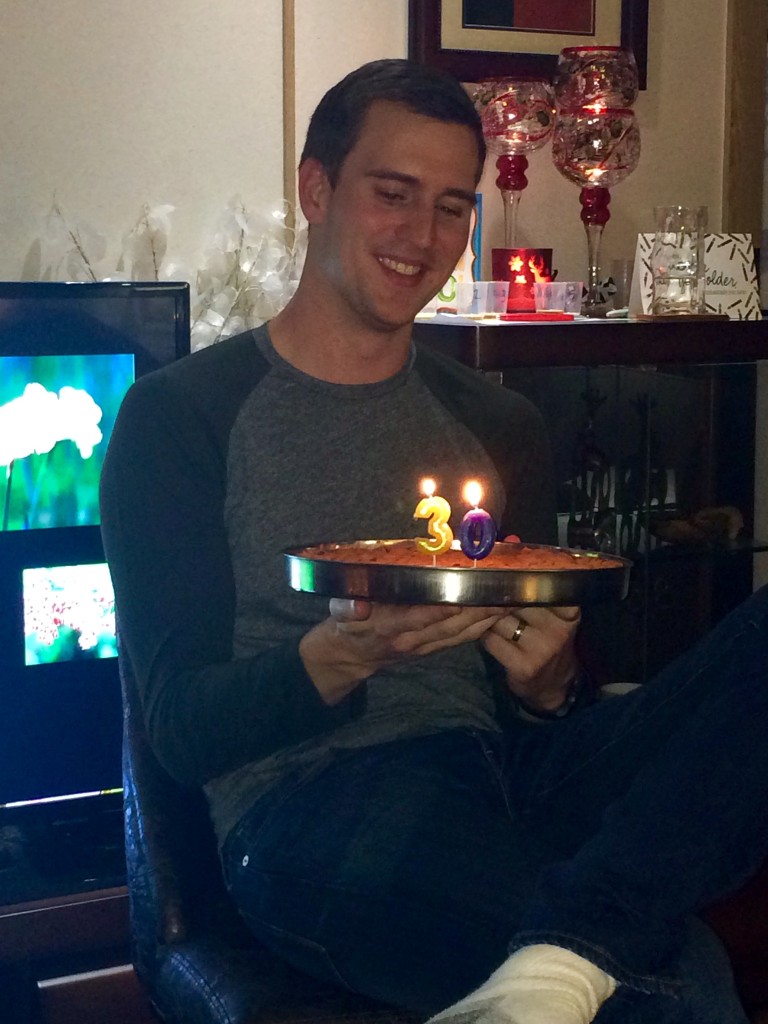 by