In October we were so lucky to have Chris's parents come visit us in Korea! Not only did they decide to come all the way to Korea to visit us, they also agreed to take a trip to Hong Kong with us, and they even filled an extra suitcase full of our favorite goodies from home. We are very lucky.
Our trip started out in Seoul. Chris and I took the KTX from Ulsan up to the airport, where we met Chris's parents outside of baggage claim. From there we took the train into town and caught a cab over to the hotel we stayed at. Funny story, taxi's in Korea are usually run on LPG, so they have these massive LPG tanks in their trunks. It's great for me, not so much for people traveling from the airport, with lots of bags. That's why we actually took two cabs from the train station to the hotel, one with Chris and his parents, and one with me and the bags! Thankfully the hotel wasn't far away — and thanks to the crazy driving in Korea — we made it in no time. My cab actually left after the other one and it still got there about five minutes faster…I win??
The next day we set off for our USO tour of the DMZ! I highly recommend the USO for tours because they are the only ones that can bring you to see the Joint Security Area (JSA), which is where you can actually walk into North Korea. Also included in the tour are trips to see the Third Infiltration Tunnel, Dora Observatory, and the Dorasan train station. All in all, the trip is worth it. If it were possible to only do the JSA portion of the trip, I would say do that, but since you can't, you might as well make the most of the other parts of the tour.  The Third Infiltration Tunnel is…interesting. It was neat to see because it is so small, but if I go back, I wouldn't walk it. Even with the hardhat they provide you, I was pretty tired of hunching my way to the end of the tunnel, only to find that you can't really see anything through the tiny window that they advertise about. Take the hike down to the tunnel, but just take a peak inside and head back up. That way you have a little more time to take photos in front of the statues out front.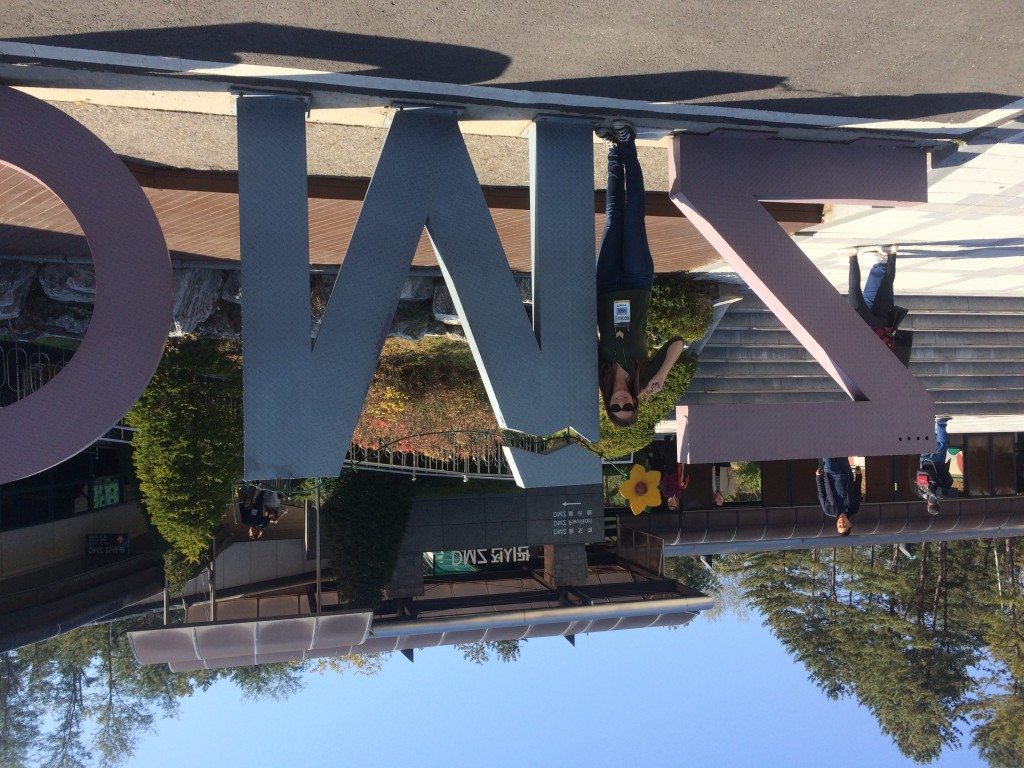 Before we headed back to Ulsan, we looked around Seoul a bit and stopped off at Changdeokgung Palace. It isn't the most famous palace in Seoul, but it is supposed to be one of the most beautiful. It's even recognized by UNESCO. The best part about the palace is the secret garden at the back. You have to have a ticket to get in, and at times, I think it can be busy. We luckily went early and picked up tickets before it got too busy and had about an hour to walk through the palace before seeing the garden.
In Ulsan Chris's parents got the full run of our expat life! We were excited to show off where we called home and took them to all of our favorite Korean and non-Korean restaurants and hang-outs. Jane, our Korean teacher, even volunteered to drive us over to see Bulguksa Temple as well as a traditional Korean pottery village. Both are in Gyeongju which is one of the former capital cities during the Shilla dynasty. This was Chris and my's second trip to Bulguksa, but I really enjoyed getting to see it again. Since it was fall, it was a totally different background because of the changing leaves. Jane was also really helpful in pointing out details we wouldn't have seen otherwise.
After a few days in Ulsan, we headed to Hong Kong! I have to admit, I was real excited to get to Hong Kong. Several of our friends had been there and loved it, so I knew I would love it too. The city is so clean and so, I don't know, western. Now, I know that some might think that would be more of a con than a pro, but when you've lived in Asia for more than a year(almost two years now) sometimes it is nice to get a little break from the norm. The food and drinks are a HUGE pro to going to HK, and I feel like we did a fantastic job of eating our way through town. I forgot how much fun it can be to walk around and pop into a little cafe for a cocktail and a cool down. This very rarely happens in Korea, they mainly just have coffee shops.
A friend of the family who used to live in Hong Kong heard we were going and sent over a list of things to do while we were there. Those, along with suggestions from our friends in Korea gave us a very full schedule and a great overview of the city. Some of my favorites were the double-decker tram that  took us around town for barely anything, eating at Spoon, visiting Victoria Peak and having high tea at the Mandarin Hotel. It was also pretty neat to see Macau but we mainly went there to get Chris a Hard Rock Cafe shot glass. He's added seven locations to his collection since we've been here, and we still need to go to the one in Seoul!
Chris and I had such a wonderful time in Hong Kong and it was definitely hard to leave — not because we were heading back to Korea, but because Chris's parents weren't coming with us. We were so lucky to get to share this traveling experience with them and also for the opportunity to show them around the place that we call home.
Things we are looking forward to this week:
Chris's company is hosting a company dinner, and I'm invited to go! Chris is constantly out to dinner but I rarely get to attend, so I am super excited that the company decided to host something that included the spouses too.
The project Chris is working on is nearing its end in Korea and we are starting to get more information on "what's next" for us. I will share on here as soon as it is finalized.
I've come out of my writing hiatus and I plan to catch up soon! Cambodia and Vietnam are still on the list, and now I've got to add Borneo. Our latest adventure in to the rain forest comes with lots of fun stories of monkeys vs. apes and leeches!
Here is to next week's stories of our adventures in Cambodia!
Michelle



by