After 24 hours of travel, we made it to Ulsan!  I would love to spend my time telling you all about our wonderful trip and how relaxing and fun it was, but I would definitely be lying to you.  I've always seen myself as an "easy" traveler.  I've flown basically my entire life (thanks to my Dad and his hobby of being a pilot) and have had the opportunity to travel to many places around the world, so I was going into this travel day with a pretty open mind (heck I've flown to Japan already, this is easy!).  I didn't, however, factor in my stress and anxiety levels before leaving, you know the little things like quitting my job, packing up and cleaning our entire house, saying goodbye to everyone we know and love, you know, the usual.  To spare you the details, I would just like to take a moment to thank Chris for being a huge support system for me on the planes and before, in-between and after.  He has put up with some pretty dramatic Michelle moments in the past few days and handled it like a champ!  Thankfully, I can report that after a few nights of semi/OK/it-will-have-to-do nights of sleep I again have a positive outlook on this new adventure!
Here is a list to sum up a few things we've done so far:
-Unpacked our eight bags, yes, you read that correctly – eight (8).  Shout out to Chris for having awesome status with United that lets us check as many bags as we want with however much stuff we want to put in them, exaggerating obviously, but barely.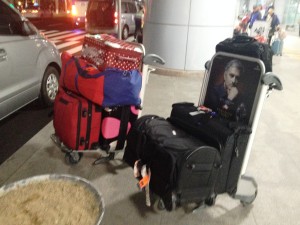 Two of Chris's bags are missing because I wasn't quick enough with the camera.
– Found the Starbucks! duh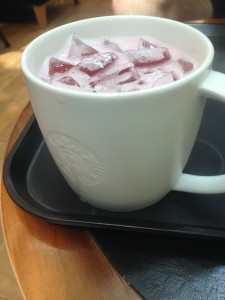 My iced tea was served to me in a coffee mug with ice, must be a Korea thing!
– Found our rental car in the parking garage and drove it successfully.  Korea has interesting driving rules.  Some people feel that red lights are optional…
– Costco (yes they have one – it's almost just like home; tons of people going in every direction, American products, bulk everything.  It's not like home in that they have escalator ramps that bring you and your cart into the store from the parking garage and lots and lots and lots of seafood (not my favorite thing to see and smell throughout the store).
– Walked to the beach in the hope that being outdoors would cure our jetlag.
–  Went to Home Plus – like a huge multi-story Walmart where I bought things like Pringles and Capri Sun, you know my "home-y" things.  I also got a Korean hair dryer there!
– Attempted to and successfully used our washing machine.
– Passed our Defensive Driving Course!  Now instead of wondering if the guy easing his way through the red light is breaking the law, I  know that he is, and that he won't get in trouble for it!
Things I've learned so far:
– I need to learn Korean, and fast.  Thank you (gamsahabnida) is not enough, but at least I can be polite!
– Our technologically savvy apartment is way too smart for me (but I think if I knew Korean I would give it a run for it's money).
Here is to next weeks stories of our adventures in Ulsan!



by